Our best price in the official website of the Bed & Breakfast & FAQ
Direct booking means no fees and cheaper
You can book on this website directly. It will be actually your assurance to get the best costs for your stay. Without any commission fees …The prices shown are the best ones available from the hotel, even cheaper (per night up to 25 euros cheaper) than the rates on OTA as Booking.com or Hotels.com. By booking on our official website, you are guaranteed to benefit from:
– the best prices available
– a booking without intermediary and without fees
– immediate treatment of your reservation
– direct assistance from our staff by phone or email.
Good to know to get the best rates :
If you want to know our availability and the prices for the dates of your stay : in one click, you will be directed to our booking engine which will give you all the information on a secure link. You will get more availabilies than on the others websites.
Note: depending on the period, the minimum stay is greater than 1 night and dates may not be possible to book online. Contact us by email in this case. Thank you.
Keep in mind that any child over the age of 8 who can swim is welcome. Under this age, the house is not adapted because of the pool, the stairs.
Best Prices during the low season
October to April :
from € 110, the night for 2 pers. with breakfast
Best prices during the medium season 
May, June and September :
from € 120, the night for 2 pers. with breakfast
Best prices during the high season
July and August :
from € 129, the night for 2 pers. with breakfast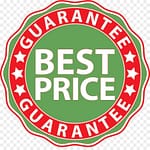 Discount for a single (single bedroom)  – 5 €
Extra for 1 extra pers. (triple bedroom)  + 35 €, petits déjeuners inclus
Local Tax : 1,15 €/adult/night
Check-in : from 4:30 pm – Check-out : 11:00 am – Contact us if this time slot does not suit you.
NB: Price 1 single night (very short stay) an increase of 5 euros may (or may not) be applied depending on the time of year, especially high season.
Please contact us.
 
A one-night stay is possible but not booked months in advance… Thank you for your understanding.
FAQ - frequently asked questions
Are the prices different depending on the room?
Given that our three rooms have the same level of comfort, the price remains the same whatever the room. In any case, you will have our best prices for guest rooms by booking directly through this site.
At what time can we arrive? and should we go?
Arrival time: from 4.30 p.m. to 5 p.m. – Departure time: before 11:00 a.m.
Outside these hours, please consult us in advance. Check-in too early or check-out too late may incur additional charges. Since the pandemic, we have avoided early or late check-ins that would prevent us from following the protocol for cleaning and disinfecting rooms.
Rooms are free. Why can't I make a reservation?
Note: depending on the period, the minimum stay is greater than 1 night and the dates may appear impossible to reserve. Or sometimes an option is already asked. If necessary, we invite you to consult us by email or by phone.
Where can we eat?
The closest restaurants are 5 minutes walk or 3 minutes by car. They are excellent and very affordable in terms of price. In summer you can order pizzas, sushi etc and eat them on the terrace. A refrigerator is available in each room for your drinks and snacks (supermarket 3 minutes by car). There is no microwave.
Can I come with my 3 year old child?
We love children but our house is not suitable for very young children. From the age of 7, they can swim and there is less danger in the water with koi carp.
Can I come with my little dog, well behaved?
We also love the little furry beasts. (We have had in the past a Beauceron and a German Shepherd.) But in the house, for reasons of hygiene and allergies, dogs and cats are not allowed. Don't propose us that they will spend all night long in your car…
May I smoke ?
We are kind to smokers (we have been in the past and now converted to electronics). You can smoke on the terrace, but obviously not inside the house.
What can we do here?
Besides the golf course, the planneur, the spa, the nautical activities at the Lake of Saint Cassien, the visits of the perched villages, the walks of which you can have a glimpse by browsing the site; you will have at your disposal tourist information and in particular hiking routes or possibilities to rent bicycles.
I come by motorbike. A problem ?
Not at all. I myself am a biker. Parking on solid and sheltered ground is available to park the motorcycle.
My golf course starts early in the morning.
Breakfast time is between 8 a.m. and 10 a.m. but we can adapt and anticipate it according to your needs and your schedule.