Dear hosts, dear friends,
Glad to be able to welcome you. During this holiday period, we remain vigilant and wear the mask in the common areas inside the house (stairs, hallway). At present, you are exempt from wearing the mask outside for breakfast and around the swimming pool, given the space available and as far as social distancing is respected. I look forward to welcoming you here soon and until then, take care of yourself, your family and your friends.
Sincerely
Ghislaine
Updated : August 14th 2020
Info Covid-19 and your booking
If you would like to book
Following the day-to-day evolution of the situation as you do, I invite you to contact me directly to make sure that I will be able to welcome you on the dates you wish. Cancellation conditions will be relaxed.
We are armed against the contagion of Covid-19 disease among other things by daily cleaning, washing at 60 ° for 30 min minimum bed linen and towels renewed regularly, on arrival of course but also during your stay. So :
We have of course strengthened our washing and disinfection protocols for bedroom and bathroom furniture for each new arrival with AFNOR NF14476 washing / disinfecting products. This goes from door handles to electric wire, through the hairdryer, the filters of the air conditioning. The protocol followed will be made available to you on request.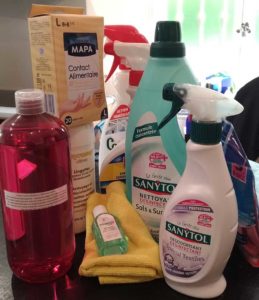 We provide hydroalcoholic gel in the common areas and during breakfast.
Our spaces are large and breakfasts can be held while keeping large social distances on the outdoor terrace.
The salt-treated swimming pool will however receive this season an addition of chlorine, dosed at least but periodically, in order to reinforce the sanitation of the water of the basin. My husband will share his knowledge and expertise as he works in this area. (Doctor Pool)
To follow the strict hygiene rules of which we are currently aware, we will ask you to avoid early arrivals or late departures and to avoid short stay of one single night in the following weeks.
Our guest house is a small structure with a reduced capacity. But she is able to make increased efforts to protect you (and us) and allow you to enjoy your stay in peace